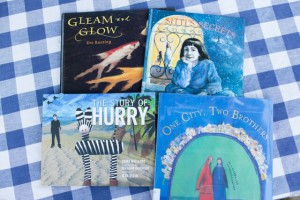 This page contains book descriptions and teaching guides. Click the down arrow below each title to read more about that item.
Picture Books
Snow in Jerusalem (ages 6-10)
Deborah Da Costa, Ying-Hwa Hu, and Cornelius Van Wright

Deborah Da Costa, Ying-Hwa Hu, and Cornelius Van Wright.
Snow in Jerusalem.
Morton Grove: Albert Whitman & Co., 2008.
Ages six to ten.
In her affecting but message-driven debut children's book, da Costa relays the story of two boys who live in Jerusalem's Old City—Avi in the Jewish Quarter and Hamudi in the Muslim Quarter. A fluffy white cat wanders between the homes of the two boys, relishing the scraps each feeds her. Then weeks pass without any sign of the cat, alarming each boy. Looking skinny and dirty, the cat at last visits Avi, who then follows her to Hamudi's neighborhood, where the youngsters begin to argue, each claiming the cat is his. As a rare snowfall begins, the boys stop bickering and, fearing that the beloved animal will freeze, follow her through Jerusalem to a dark alley where they discover four kittens in a box. As the mother purrs loudly and rubs against the boys, they conclude, "She does not want us to fight…. She wants peace." The watercolor art by this husband-and-wife team (Mei-Mei Loves the Morning) balances precise, close-up portraits of the boys with softly focused backgrounds that depict the various cultural nuances of the setting. A glossary defines the Hebrew and Arabic words integrated into the text. (Publishers Weekly)
Sitti's Secrets (ages 6-10)
Naomi Shihab Nye Nancy Carpenter

Naomi Shihab Nye and Nancy Carpenter. Sitti's Secrets. New York: Four Winds Press, 1994.
Ages six to ten.
Mona's grandmother, Sitti, lives "on the other side of the earth" in a Palestinian village on the West Bank. Despite their uncommon language, she and her grandmother share daily life and special moments together when Mona and her father take a trip to visit Sitti. Upon her return to the United States, Mona writes a letter to the president: "If the people of the United States could meet Sitti, they'd like her for sure. You'd like her, too." Paired with Nancy Carpenter's sun-drenched illustrations, Naomi Shihab Nye's poetic text explores a child's feelings and fears about a grandparent living far away in a part of the world that most children in the United States know only one-dimensionally, if at all, through reports in the news. (Cooperative Children's Book Center, University of Wisconsin-Madison)
One City, Two Brothers (ages 4-8)
Chris Smith and Aurelia Fronty

Chris Smith and Aurelia Fronty. One City, Two Brothers. Cambridge: Barefoot Books, 2007.
Ages four to eight.
In a folktale shared by both Jews and Arabs, two brothers plow their father's field and divide the harvest equally. The older brother feels blessed by his wife and children and is compelled to give more of the grain to his younger brother, who lives alone. In the middle of the night, he takes three sacks of grain to the man's house. The younger sibling feels that his older brother deserves more of the harvest since he has a family to support, and he in turn journeys to his brother's house with three sacks of grain. Both are puzzled in the morning when they see that they still have the same amount of grain. This continues for several nights until they meet on the hill halfway between their houses. It is believed that this meeting place is where King Solomon built the Holy Temple in Jerusalem. Smith's poetic retelling, coupled with Fronty's stunning acrylic illustrations, makes a pleasing and poignant picture book. The beautifully written author's note provides readers with background information about Jerusalem and the origins of the story. A timeless tale about selflessness, brotherly love, and the power of individual acts of kindness. (School Library Journal)
The Story of Hurry (ages 3-7)
Emma Williams and Ibrahim Quraishi

Emma Williams and Ibrahim Quraishi. The Story of Hurry. New York: Seven Stories Press, 2014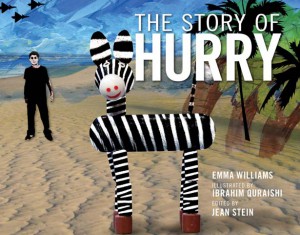 Ages three to seven.
Williams, a physician and journalist who witnessed the second Palestinian intifada while living in Jerusalem, bases this haunting, hopeful, and relevant story on an incident that took place in the Gaza Strip in 2008. Hurry, a donkey who is always in a rush, slows down enough to notice that the local children are often sad, thirsty, and afraid ("Some nights, the sky thundered and brightness cracked the sky"). Longing to make them happy, Hurry and a boy named Wattan visit the keeper of the zoo, where most animals have died, who suggests how Hurry can "help [the children] dream": he dyes Hurry's fur to resemble that of a zebra, giving kids the chance to see and even ride an "exotic" animal. Both Williams's prose and Quraishi's mixed-media illustrations strike a balance between portraying raw reality and leaving room for interpretation and discussion. An assemblage of photos, stark silhouettes, and abstract flourishes, the pictures mesh comforting and disturbing images—Hurry himself appears as a wooden toy, a striking symbol of innocence in a story built around children forced to grow up quickly. (Publishers Weekly)
Picture books about other places that can be used to discuss refugee issues with children:
Gleam and Glow (Bosnia, ages 6-9)
Eve Bunting and Peter Sylvada

Eve Bunting and Peter Sylvada. Gleam and Glow. Orlando: Houghton Mifflin Harcourt, 2005.
Ages six to nine.
Sylvada's (A Symphony of Whales) eerie autumnal oil paintings provide the emotional backdrop for another Bunting tale of a family forced into exile (So Far from the Sea). After Papa leaves to join the underground in his war-torn country, life for the eight-year-old narrator, Viktor, his five-year-old sister, Marina, and their mother grows increasingly grim. "Every day we heard distant gunshots and saw smoke rise into faraway skies," while strangers fleeing the conflict share terrible stories. The only bright spot is the pair of goldfish one refugee leaves behind. Marina names them Gleam and Glow and dotes on them. But when the threesome finally departs for the border, they must leave the fish behind, so Viktor releases them into the family's pond. After a long stay in a refugee camp and a tearful reunion with their father, the family returns to find their home devastated but the pond full of fish, "as shimmery and dazzling as melted gold." This image of hope and renewal strikes a strong keynote in Bunting's bittersweet story (inspired by true events in the Balkans, she explains in an afterword). The narrative brims with poetic similes while Sylvada's thick brush strokes and somber palette produce images that are at once stark and dreamlike. The artwork reveals the bleakness of both landscape and emotions in a time of war. (Publishers Weekly)
Four Feet Two Sandals (Afghanistan-Pakistan border, ages 7-10)
Karen Williams, Khadra Mohammed, and Doug Chayka

Karen Williams, Khadra Mohammed, Doug Chayka. Four Feet, Two Sandals. Grand Rapids: Eerdmans, 2007.
Ages seven to ten.
Based on Mohammed's work with refugees in the city of Peshawar (on the Afghanistan-Pakistan border), this poignant story centers on two Afghani girls, each of whom ends up with half of a pair of sandals after relief workers bring used clothing to their refugee camp. Lina and Feroza agree to share the shoes, taking turns wearing them and sometimes each wearing one. They also share their stories: Lina tells of her family's midnight flight after her father and sister were killed, and Feroza responds, "I have only my grandmother now." After Lina learns that her family will be able to relocate to America, the girls go back and forth about who should keep the sandals, and ultimately decide to each keep one to better remember the other. Paired with Williams's (Circles of Hope) straightforward narrative, Chayka's (The Pink House at the Seashore) acrylic paintings, rendered in broad swaths of color, offer a glimpse of the seldom viewed, chore-filled lives of children in a refugee camp, where only boys can attend school and crowds fight for supplies and clothing. The bright yellow sandals, each decorated with a blue flower, shine against the muted desert landscape, a well-chosen and meaningful symbol of both privation and hope. (Publishers Weekly)
Novels
Where the Streets Had a Name (ages 12 and older)
Randa Abdel-Fattah

Randa Abdel-Fattah. Where the Streets Had a Name. New York: Scholastic Press, 2010.
Ages twelve and older.
Thirteen-year-old Hayaat and her Palestinian family have lived in Bethlehem, only six miles from the Old City of Jerusalem, since their family home and olive groves were taken for Israeli settlements years before. Her mother's frustration, her father's sadness, boisterous disagreements with her siblings, and an undercurrent of love and humor define Hayaat's life. So, too, do uncertainties, from sudden curfews to the unpredictability of violence. When her grandmother falls ill, Hayatt is determined to bring her a jar of soil from the yard of the Old City home where the elderly woman lived years ago. Traveling with her Palestinian Christian friend Sammy, the six miles there and then back last all the hours of a single day and deep into the night. Journeying by foot, bus, and taxi, around and through checkpoints, sneaking over the city wall, the two meet other Palestinian travelers as well as Jews who are sympathetic and helpful. But the trip also brings back Hayaat's terrible memories of a blast that left her face scarred and killed a childhood friend several years before. In the days and weeks that follow, Hayaat can't shake a growing feeling of despair. Author Randa Abdel-Fattah has woven a rich tapestry of a narrative, incorporating eye-opening details of the challenges faced by families like Hayaat's into a story that illuminates the importance of laughter, love, and above all, hope. (Cooperative Children's Book Center, University of Wisconsin-Madison)
Tasting the Sky: A Palestinian Childhood (ages 13 and older)
Ibtisam Barakat

Ibtisam Barakat. Tasting the Sky: A Palestinian Childhood. New York: Melanie Kroupa Books/Farrar, Straus and Giroux, 2007.
Age thirteen and older.
Ibtisam Barakat grew up in Ramallah during the late 1960s and 1970s. With a poet's gift for acute observation and expression, she chronicles her early childhood in this riveting memoir. When the Six Day War erupted in early June of 1967, preschool-aged Ibtisam, her two older brothers and her parents became refugees along with thousands of other Palestinians, making a harrowing flight from Israel to the relative safety of Jordan. . When they are finally given permission to return to Ramallah, her family does so both eagerly and anxiously. They try to return to the rhythm of their daily life, but it has been altered forever. Ibtisam is aware of her mother's fears and the strain on her family even as she and her brothers experience the more typical joys and sorrows that go hand-in-hand with childhood . In recounting these times, Ibtisam seamlessly weaves together the ordinary and the extraordinary, from her fascination with letters and the excitement of learning to read to the dangerous thrill of playing near the Israeli soldiers who trained not far from their rural home outside Ramallah. The narrative is framed by several of the author's poems, and by chapters set in 1981, when teenage Ibtisam is "midway from forgetting to remembering." These chapters reveal a life filled with challenges both typical of adolescence (tensions with her mother) and far beyond what most teen readers in the U.S. have experienced (detention by soldiers, and the very real fears that her city may be under siege). They clearly mark a point of transition between the little girl she was, resilient and loving and eager to read and write and learn, and the woman whose adult understanding—still openhearted but no longer innocent–informs a narrative grounded in that little girl's perspective on all that was happening to and around her, from the haunting to the beautiful. (Cooperative Children's Book Center, University of Wisconsin-Madison)
Samir and Yonatan (ages 12 and older)
Daniella Carmi

Daniella Carmi. Samir and Yonatan. Translated by Yael Lotan. New York: Arthur A. Levine Books, 2000.
Age twelve and older.
A richly told, deeply felt story about the friendship that forms between a young Palestinian and a Israeli Jewish boy who meet in a Jerusalem hospital. Samir is waiting for American doctors to operate on his broken leg. Isolated from his family, who cannot make the trip each day from their village. Samir feels alone and at odds with the four Jewish children–two boys and two girls–with whom he shares a room. To him, they represent those responsible for his brother's death. Through the long, slow days and nights, Samir begins to see that each of his roommates has her or his own fears and difficulties, and that one of them, Yonatan, is making an effort to be friends. Though unsure why he's been singled out, Samir makes the decision to trust Yonatan, and his world expands in ways he could never have imagined. Yonatan introduces him to the literal universe of planets, stars, and galaxies. He also introduces Samir to the universe of the imagination, where Yonatan escapes when he is tired of the real world. There is not much physical action in this book about relationships and feelings, but much is transcended when the children are able to forget about where they come from and meet one another on the common ground of childhood. (Cooperative Children's Book Center, University of Wisconsin-Madison)
The Shepherd's Granddaughter (ages 13 and older)
Anne Laurel Carter

Anne Laurel Carter. The Shepherd's Granddaughter. Toronto: Groundwood Books/House of Anansi Press, 2008.
Age thirteen and older.
Amani loves herding sheep with her grandfather, following her heart up the mountain each day. But the Israeli-built highway that her family and other Palestinians are not allowed to use is coming closer, and soon there are signs that a settlement is being built not far from where she takes the herd to graze. Amani's heartbreak is compounded by the realization that her beloved grandfather is dying, while the arrest of her uncle, and later her father, by Israeli soldiers heightens her fear. Anne Laurel Carter's fine novel casts a light on the experiences of Palestinians losing their homes, their livelihood, and sometimes their freedom as Israeli settlements expand on the land that Palestinians and Israeli's alike consider home. Her narrative is built on rich details of Amani's life in scenes that showcase the tenderness, tension, humor, and love that is part of being a family. While firmly rooted in the Palestinian perspective, the narrative offers insight into the mindset of the Israeli settlers, who believe their right to the land is God-given. It also showcases a variety of opinions among the Jewish people, including an American-born boy who has joined his father at the settlement. At first certain of their place there, Jonathan grows increasingly more uncomfortable, and then adamantly opposes the violence the settlers and army use against Amani's family and town. There is also a rabbi, and later a lawyer, involved in the peace movement and offering legal assistance and support to Amani's family and others. At the center of the turmoil is the coming-of-age story of a girl having to reinvent her idea of what her future will be. (Cooperative Children's Book Center, University of Wisconsin-Madison)
A Stone in My Hand (ages 10-14)
Cathryn Clinton

Cathryn Clinton. A Stone in My Hand. Massachusetts: Candlewick Press, 2002.
Ages ten to fourteen.
Set in the Middle East in 1988, eleven-year-old Malaak's story centers around the disappearance of her father, who left to find work in Gaza City a month ago, and has not returned home. As Malaak closes down, turning inward with her worry and grief, her brother Hamid finds comfort in action, and joins the Islamic Jihad against the wishes of his mother and sisters. Meanwhile, although the family attempts to maintain some level of normality in their daily lives, they are under constant strain. Soldiers patrol the neighborhood, schools are closed, curfews imposed, and children throwing stones may provoke gunfire in retaliation. Malaak's story contains no easy answers, but offers compassionate insight into individual lives impacted hugely and constantly by the conflict that surrounds them. (Cooperative Children's Book Center, University of Wisconsin-Madison)
The Cat at the Wall (ages 10-13)
Deborah Ellis

Deborah Ellis. The Cat at the Wall. Toronto: Groundwood Books/House of Anansi Press, 2014.
Ages ten to thirteen.
Set against Israeli-Palestinian tensions in the city of Bethlehem, Deborah Ellis skillfully connects the personal struggle to be a good person and do the right thing with the larger political conflict in an unusual, nuanced, and intriguing story. A stray cat that was once an American girl from Bethlehem, Pennsylvania, named Clare follows two Israeli soldiers into a Palestinian house where they've been told to spy on the neighborhood. The house looks like it was suddenly abandoned, but the cat senses a child is present, and eventually directs them to the hiding place of a mute, asthmatic Palestinian boy. As a girl, Clare was often cruel, caught in that spiral in which one unkind act leads to another, in which anything is easier than saying "I'm sorry" and admitting the hurt in her heart. Clare's sixth grade teacher gave Clare the opportunity to reveal the best parts of herself, but Clare resisted mightily, and then an accident ended her life as a girl. Meanwhile, as Palestinian neighbors realize the Israeli soldiers are inside the house, the situation escalates and Clare the cat, still tinged with disdain, finds she cannot ignore the truths she knows about the people involved, and the chance to make a difference at one moment, in one place. Ellis exposes the tragedy of conflicts large and small while revealing moments of compassion and decency in hearts of characters facing chaos within themselves, and all around them. (Cooperative Children's Book Center, University of Wisconsin-Madison)
A Little Piece of Ground (ages 10-14)
Elizabeth Laird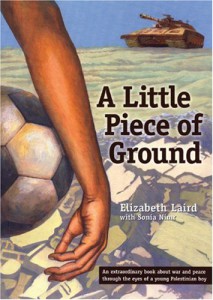 Elizabeth Laird and Sonia Nimr. A Little Piece of Ground. Chicago: Haymarket Books, 2006.
Ages ten to fourteen.
Karim Aboudi would live and breathe soccer twenty-four hours a day if he could. But there's the little matter of school, and the much bigger matter of curfews, which sometimes force him, his family, and the other Palestinian residents of Ramallah to stay in their houses for days on end. It's also hard to find a good place to play. Hopper, who lives in a nearby refugee camp, shares Karim's passion for soccer. With the help of some friends, the two boys clear a rock-strewn area on the outskirts of the camp and create a soccer field. But their joy at having a place to play is short-lived after another curfew is declared and their field is occupied by a small group of Israeli tanks and soldiers. Elizabeth Laird's tense, forthright novel is woven with memorable moments in which the frustration, fear, and humiliation felt by Karim, his family, and friends are palpable. The impact on older teens like Karim's brother is a growing sense of anger, while many adults must combat hopelessness. For a child like Karim, there is constant awareness of uncertainty, and a growing understanding of how hard it can be to not give in to feelings of despair in a riveting story that offers U.S. readers a glimpse behind the headlines. (Cooperative Children's Book Center, University of Wisconsin-Madison)
Download teaching ideas from East London Teachers Association
Habibi (ages 11-14)
Naomi Shihab Nye

Naomi Shihab Nye. Habibi. New York: Simon & Schuster, 1997.
Ages eleven to fourteen.
Like many 14-year-old girls growing up in St Louis, Liyana Abboud's life revolves around her immediate family, her school, her neighborhood, and her small circle of friends. She has already experienced her first kiss and she enjoys writing poetry, which she occasionally shares with her old fourth grade teacher who first encouraged her in creative writing. (She specializes in writing first lines, which we see here at the beginning of each chapter.) When her father announces that he wants to return with his family to his hometown, Jerusalem, Liyana is initially stunned, even as her family packs a few belongings and sells most of their worldly goods. Life changes dramatically for Liyana and her good-natured younger brother, Rafik, when they move halfway across the world to a place Liyana has only known through headlines and nightly news reports. Her Arabic-speaking relatives are all strangers to her and even her father seems to have changed a bit in the context of his native culture. Liyana soon develops a close relationship, however, with Sitti, her grandmother; although they don't speak the same language, they recognize one another as kindred spirits. Free to explore Jerusalem ("a cake made of layers of time"), Liyana takes everything in, lyrically screened through the heart and soul of the poet she's becoming. Her passion for life and language, for justice and humanity, leads her down some unfamiliar streets, looking for "…a door in the heart that had no lock on it." She finds it in a most surprising place: in the heart of a Jewish boy named Omer. Liyana is an extremely likable, well-rounded character, and readers will enjoy accompanying her on her journeys to and through Jerusalem, as well as on her journey of self-discovery. Like Liyana's first lines, Naomi Shihab Nye's crackling prose is filled with humor, imagery, compassion and insight which all work together to create one of the strongest senses of place ever seen in a work of fiction for children, a place where "…water came from the earth and stories sprang from the stones." (Cooperative Children's Book Center, University of Wisconsin-Madison)
The Wall (ages 12 and older)
William Sutcliffe

William Sutcliffe. The Wall. London: Bloomsbury Childrens, 2014.

Ages twelve and older.
Thirteen-year old Joshua's circumscribed life in the newly developed and carefully guarded town of Amarias changes when a search for his soccer ball takes him over The Wall. This barrier separates his people from those on the other side, who are, according to his stepfather, "Terrorists! People who want to kill us!" Joshua's discovery of a bulldozed house, a tunnel, and a town so different from his-both in its liveliness and its poverty-along with an act of friendship from a supposed enemy challenge this perspective. Narrating in first-person present tense, Joshua shares his internal struggles and corresponding actions as his growing awareness of contrasting social realities awaken him to a world of nuance, political complexity, and ethical dilemmas. For example, a request from his new friends to water their orchard on his side of The Wall leads Joshua to defy parental limits and government strictures. Throughout this riveting story, which parallels the conflict on Israel's West Bank, adult author Sutcliffe conveys a sense of the moral imperative to bear witness and risk failure in pursuit of justice. (Publishers Weekly)
A Bottle in the Gaza Sea (ages 12 and older)
Valérie Zenatti

Valérie Zenatti. A Bottle in the Gaza Sea. Translated by Adriana Hunter. New York: Bloomsbury USA Children's Books, 2008.
Ages twelve and older.
Told primarily through emails, this is the story of two young people on opposite sides of a political chasm: Naïm is Palestinian and lives in Gaza, and Tal is Israeli and lives in Jerusalem. Brought up in a family committed to Israeli-Palestinian peace, 17-year-old Tal writes a note, puts it in a bottle, and asks her brother, who is serving in the Israeli army, to throw the bottle into the sea in Gaza. Instead, he places it in the sand on the beach, and it is picked up by Naïm. Thus begins the email correspondence between "Gazaman" and "Bakbouk." As they slowly feel each other out, the teens begin to develop trust, friendship, and perhaps even something more. Their thoughts about their lives and about the political situation are carefully presented, and their musings and growing relationship constitute the central action of the novel. This smooth and unobtrusive translation starts out slowly and takes nearly one hundred pages to reach out and grab readers. The second half is compelling, but the ending is abrupt and feels unfinished. The book's appeal is likely to lie in the fact that these two characters are regular kids, yet are unusual in their sense of themselves as different from the people around them. They are caught in a situation not of their own making, they are not understood by the world, and they show, as young people often do, the simple and direct humanity of people of good will.—Sue Giffard, Ethical Culture Fieldston School, New York City  (School Library Journal)
Download the teacher resource package from the Toronto Jewish Film Festival
Note: This guide was written for the film that was based on the book, but it is useful nonetheless.
When I Was a Soldier (ages 15 and older)
Valérie Zenatti

Valérie Zenatti. When I Was a Soldier: A Memoir. Translated by Adriana Hunter. New York: Bloomsbury Publishing Children's Books, 2005.
Ages fifteen and older.
Valérie Zenatti's memoir of her two-year compulsory service in the Israeli army offers contemporary, accessible insight into an experience foreign to most American teenagers. A relatively recent French immigrant to Israel, Valérie approaches her military service with trepidation, as it marks her transition to adulthood and a separation from high school friends. Her experiences in training and on the job in military intelligence are interspersed with details of her personal life, including evolving relationships and a painful breakup with a boyfriend. As Valérie matures, she struggles to balance her ambiguous feelings about the Israeli-Palestinian conflict with her dedication to her job. Realistically, she never arrives at a perfect solution. (Cooperative Children's Book Center, University of Wisconsin-Madison)